(Deutsch unten)
We will be at the Green Market Winter Edition in Berlin December 17 & 18!
Come and get the full range of Terra Vegane products!
We will also have a delicious holiday item special for you: our tempting Vegan Winter Roast!!! With Lentil-Sage-Seitan and filled with an exquisite Cranberry-Buckwheat stuffing , and a creamy ready to make gravy mix!  Sounds like a vegan foodie's dream ?
Well, it is!
AND we have an extra-special offer: Pre-order A Vegan Winter Roast to pick up at the Green Market on Dec 17 or 18 and get 10% Holiday Discount !
The Vegan Winter Roast is available in Berlin only at the Green Market Winter Edition, and with limited quantities…. So reserve your Vegan Winter Roast now!!!
Just conatct us : info@terravegane.de  — or use the contact form below.
More information about the Green Market Winter Edition: https://www.facebook.com/events/1462159420464192/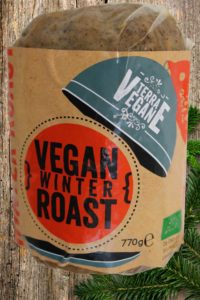 Kommt und holt euch die gesamte Terra Vegane Produkt Palette auf dem Green Market!
Wir werden dieses Mal etwas ganz besonderes für euch dabei haben. Für die kommenden Festtage haben wir einen Seitan-Salbei Braten mit Buchweizen-Cranberry Füllung und einem Gravy-Mix für euch kreiert.
Weil bald Weihnachten ist, geben wir euch bei Vorbestellung unseres Winter Roasts 10% Rabatt!
Schreibt uns einfach eine Mail : info@terravegane.de
und holt euch das leckere Teil direkt auf dem Green Market ab.