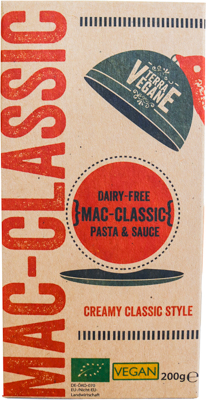 MAC-CLASSIC
A dairy-free version of an all-time American favorite: Mac & Cheez! Easy, Cheezy, Delicious and Nutritious!
Organic macaroni with a creamy, stretchy Classic Cheddar sauce mix. One box makes one large portion or multiple smaller portions.
Perfect for lunch, a side dish for dinner or late night snack.
Ingredients:
Macaroni*(Semolina*), Cassava Starch*, Nutritional Yeast*, Salt, Riceflour*, Carrot Powder*, Lupin Flour*, Spices*, Mustard Powder*, Locust Bean Gum*, Citric Acid

* = Certified Organic

Made in a vegan facility that also handles cashews and soy.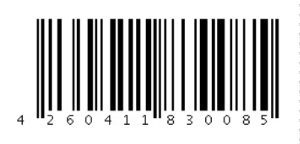 Nutritional Information / Nährwerte
100g
Energy / Brennwert:
1497kJ, 358kcal
Protein / Eiweiss:
14g
Carbohydrates / Kohlenhydrate:
from Sugar / davon Zucker:
72g
3g
Fat / Fett:
Saturated Fat / davon gesättigte Fettsäuren:
2g
0g
Fiber / Ballaststoffe:
4g
Sodium / Natrium:
0.8g
Article Number: 008
Organic
Retail
Wholesale
--(Deutsch unten)-- Low-Fat, Quick & Easy! Prepare your Mac&Cheez as usual but use 150ml soy milk and 3 tablespoons of soy yogurt(unsweetened) instead of the recommended margarine. Voilá, you just created a low fat,  but [...]
--(Deutsch unten)-- ( Makes main dish for 2 people, or side dish for 4 people ) INGREDIENTS   Terra Vegane Mac & Cheez: Classic Cheddar Style 125ml Soy Milk 15g Margarine 2.5l Water 4 XL [...]
--(Deutsch unten)-- ( Makes main dish for 2 people, or side dish for 4 people ) INGREDIENTS Terra Vegane Mac & Cheez: Classic Cheddar Style 1.5 L Water 125ml Soy Milk 15g Margarine 1 Large Portobello [...]